The connected pool is changing ... and getting simpler. The manufacturer's new home automation system makes it possible to remotely control the salt chlorinator using a simple wired connection.
The user will be able to manage the settings of his pool with E-POOL anytime and from anywhere: filtration, auxiliaries (lighting, water jets, etc.), flow sensors / covers, pH regulator, salt, temperature, chlorine and ORP probes, modification of the pH / chlorine or ORP production instructions, pH and electrolysis regulating mode, activation / deactivation of the electrolysis "Test" function or of the "Boost" function.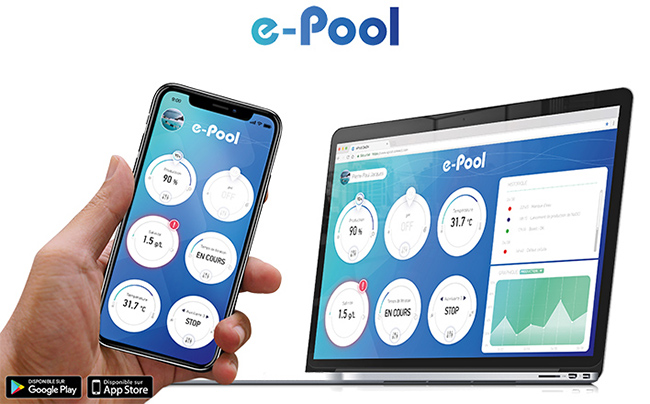 E-POOL not only makes it possible to accomplish all this remotely, it also optimizes the functioning of the chlorinator, improves the management of treatment products, allowing the private individual as well as the professional to save time and money.

For the professional, this system also facilitates his management of his clients' pools. The user will be able to call him easily using the "Assist mode" button. The professional will thus be able to diagnose a possible breakdown or change any parameter. Alerted by email, he will be able manage the situation remotely by connecting to its interface.
The interface will allow him to take control of the advanced features of the device: parameters, chronology, options (flow sensor, empty canister, slatted cover, external control, salt probe, temperature probe, etc.) to restore factory settings, stop the chlorinator in case of emergency, manage the alarm and notifications.
A solution that helps the pool professional to gain in efficiency and build a close relationship with his customers.