AIn order to increase its presence In the French market, BEHQ is expanding its range of PISCIMAR All Stars products.
These products, specially developed for the treatment of pool water, help to solve all problems related to water balance and various difficulties encountered (any type of algae, stains on coating, etc.)


Among these new products is the Actibon Ultra, which allows the user to rectify cloudy water in less than 5 hours and, above all, to solve the problem of excess stabilizer in the water, thus avoiding drainage of his pool.

Another new product: the Cleanpool Mini, a small 8-gram pellet, procures clear water easily in 24 hours. Compatible with all types of filtration, this coagulating and clarifying product prevents the residue of fine particles at the bottom of the pool and adapts perfectly to aboveground pools with cartridge filtration.

Among the other coagulants, the Cleanpool Tab and GoldenFlok will ensure clear water, free of sunscreen residue and other deposits on the waterline. No more stains on coatings.

Finally, to complete the pool maintenance range, its Linnet Action provides a thorough cleaning of the water line. This highly concentrated product is a powerful and biodegradable cleaner and can be used for both pools and spas.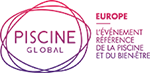 To be discovered at Piscine Global Europe in Lyon
www.piscine-global-europe.com