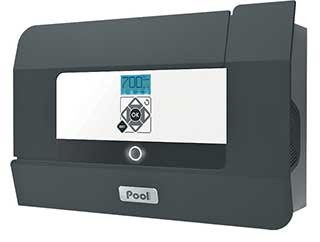 POOL TECHNOLOGIE offers Professional Salt as part of its core product range. This salt water chlorinator is designed for large volumes, with a chlorine production capacity of 800 g/h and partial or complete destruction of chloramines, a source of pool problems.

For the 2019 season, this device has been fitted with "Connect Pro" mode, a function making it possible to centralise all managed pools' water quality settings (salt measurement, history, etc.) remotely and in real time thanks to a simple connection to the local network. If an alarm is triggered, a written message is sent directly to the maintenance manager's "Connect Pro" interface.

Another solution in the Professional range, Professional Dosing, is a top-of-the-range solution that guarantees pH and chlorine regulation using its high-quality amperometric pH and chlorine sensors.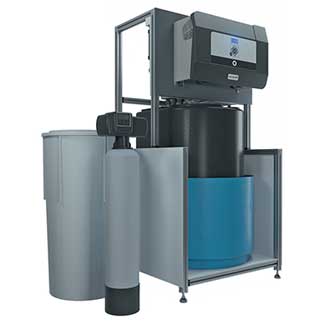 Pure Chlore®
PURE CHLORE® is still a feature of the Professional range and is the innovative in-situ chlorine generator (in the machine room).
It produces chlorine (sodium hypochlorite), which is then stored in a storage tank before being injected into the pool using a dosing pump controlled by automatic regulation.
The disinfectant is thus permanently maintained at its optimum level, even in crowded pools and/or in tricky weather conditions.
In 2018, the system was fitted with a complete management interface to control the proper functioning of the installation remotely and in real time. Without having to rely on an internet connection, the device sends alert notifications via SMS to all equipment administrators.
POOL TECHNOLOGIE solutions with integrated amperometric chlorine regulation, such as the DOSIPOOL® Ampéro dosing system and the POOLSQUAD® Ampéro salt water chlorine generator will also be exhibited on the stand of Interbad.
Amperometric regulators, which are widespread in communal facilities as they meet the binding standard requirements regarding chlorine, are becoming more and more popular amongst those searching for convenience and stand-alone devices.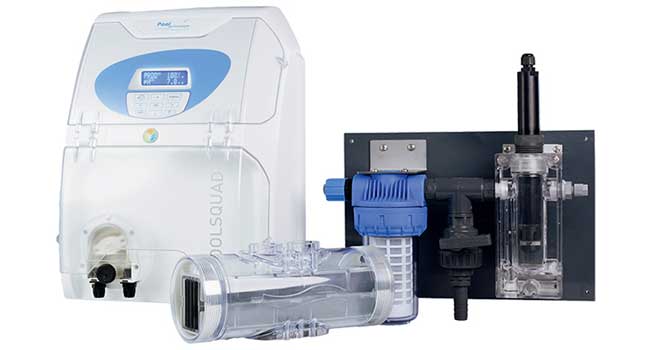 POOLSQUAD® and DOSIPOOL®
This top-of-the-range technology, approved by professionals, guarantees outstanding water quality with minimal maintenance. The amperometric sensor is provided with an analysis chamber, which is essential for proper functioning and protection of the chlorine sensor.

With its filter, it maintains a constant flow without any waste on the membrane.
The sensor is continuously immersed in the water in order to ensure a precise measurement and to prolong its life. The role of this sensor is to calculate the free chlorine (chlorine still active for disinfection) present in the water. The system therefore automatically adjusts the production of chlorine based on the actual needs analysed for the pool.
To be discovered at interbad in Stuttgart
www.interbad.de