The new FlexiTester by Water-i.d. keeps the user more than flexible. The tester itself is used like a regular pooltester. Water is scooped, a tablet is added and the water develops a color.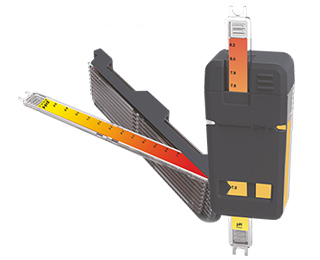 Other than with a pooltester, where the color is compared to a chart, the FlexiTester is provided with color sticks that can be slid into the tester.
The color is ongoing and not in steps like on a pooltester, so sliding the stick up and down ensures a perfect match.
Additionally, by having the color chart on a stick, the user is not limited to only a few parameters as just a change of the color-stick allows to test other parameters as well.
Water-i.d. offers sticks for up to 25 different parameters, including the most common ones for pools, such as pH, chlorine, active oxygen etc.
When purchasing the FlexiTester, the user can chose, which parameter-sticks and reagents shall be included, whilst always having the option, to order other parameter-sticks and reagents later on.
A wide range of products of Water-i.d. such as pooltesters, test strips, tablet reagents, photometers, comparators and electronic meters, cover the need of many different industries.
To be discovered at interbad in Stuttgart
www.interbad.de