SCP proposes the Garden PAC Invertech heat pump, integrating full-Inverter® technology (100% Inverter), that operates from -7° C.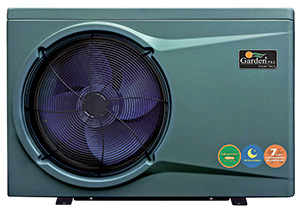 A Mitsubishi DC Inverter dual-mechanism rotary compressor powers the pump, namely two rotors that run in unison to balance the engine torque and avoid any jolting.

The result is quiet operation, with very little vibration and high efficiency. In addition, it builds up to nominal intensity gradually over 2 minutes without peaking in intensity. Whereas an On/Off heat pump will require 5 times this nominal intensity to start (peak intensity).

This pump allows savings of around 50 to 60% (compared to an inverter heat pump), operating at low speed during more than 95% of the season.

It has a COP rating of 15, under conditions Air 26° C / Water 26° C / Humidity 80%.