The SCP offer in electric pool-cleaning robots includes the Zenit range, exclusive to the supplier, and comprises the Zenit 12, Zenit 20, Zenit 30 and Zenit 30 LIBerty, four Dolphin robot models.
In its new version, the Zenit 30 sports a filter-full indicator.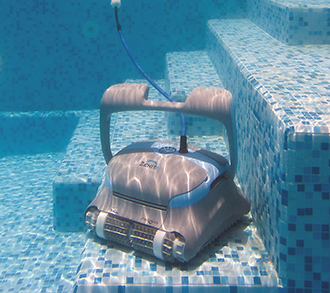 Recommended for swimming pools up to 15 meters long, this robot offers cleaning cycles of 1h30, 2h30 and 3h30, optimized, thanks to its Gyro navigation system, which calculates the trajectory to be followed for total coverage of the swimming pool. It can operate either in automatic or manual mode.
Equipped with 3 combination brushes, this robot ensures super-fast scrubbing: PVC spikes, foam brushes and Wonder Brush sponges and a two-speed brush navigate through all types of coatings. It moves effortlessly across the floor, the walls and the waterline, propelled by two driving motors that make it really agile.
The robot can also be programmed for a week using the MyDolphin application on a smartphone or tablet, which also allows remote control of the robot. It can also be programmed using the remote control that comes with it.
Zenit 30 also incorporates a self-test troubleshooting system and is covered by a 3-year guarantee.