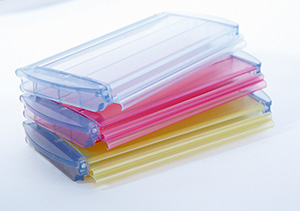 This season, OCEA is expanding its Eclipse range of anti-algae and anti-UV slats, with more colours and a choice of 'à la carte' colours, according to customers' requirements.
It is no longer necessary to compromise, because now customers can choose their preferred colours.

Eclipse slats have many advantages:
• They have exceptional resistance to UV rays, thanks to the UV stabilizers of the base material and an additional protective top layer that give them a significantly longer service life.
• The phenomenon of photosynthesis is limited by blocking the light in the hinge and the coloured layer over the connecting section between the slats, to reduce the formation of algae to a minimum.
•The slats have a greater flotation capacity, which increases the safety of the cover. The installation is simple and is done by clicking or sliding in the slats. In addition, they can be used in all pool configurations, both in in-ground and above-ground pools.
• They are suitable for new covers and covers under renovation.
• These slats are easier to clean with their specially designed end caps.
• They are compatible with the most common slats on the market thanks to their double hooks, and are covered by a 5-year guarantee.
Since the beginning of this season, OCEA has also been focussing on project-based products, such as a movable partition walls and a motorized valve.
The movable wall is mainly used to separate an indoor and outdoor pool.
Using a combination of motorized valves and integrated automatic covers, indoor and outdoor pools can be covered.