Steadfastly following its goal of innovation in the research and development of its products, ESPA is now offering a new range of pumps dedicated to the pool, bringing improvements in design, materials and functions.
Innovation and development
A better hydraulics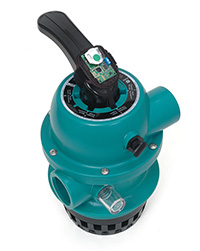 This series retains the characteristics of the previous models, with developments in terms of hydraulics adapted to application in pools.
The body of the new pool pumps stands apart for its new, improved dynamic design and the characteristic "blue water" colour, with an increased proportion in the colour, reinforcing the distinctiveness of the range.
AISI 431 Stainless steel components
These pumps are fitted with an AISI 431 stainless steel motor shaft, a special AISI 316 stainless steel mechanical seal, bearings that withstand a temperature of up to 160° C and a P2 capacitor with aluminium casing, and a service life of 10,000 hours.
An extended warranty
Another notable innovation to this range is the extension of the factory guarantee to 5 years, which is provided exclusively for the ESPA Pool pump range.
These conditions are as follows:
Standard 2-year guarantee from date of invoice in accordance with the ESPA General Warranty Terms.
An additional 2-year extension of warranty for purchases of the product from one of the distributors certified as an ESPA evopool® partner.

A further guarantee of 1 year for the registration of the end-user on the dedicated website.

An App to remote control the pool pump
For remote control of the pump, the ESPA evopool® application offers additional convenience to the user, who can use a smartphone to programme the filtration ranges and pump parameters, and even calculate the energy savings that result from the use of this pump model.