RENOLIT ALKORPLAN CERAMICS is the new range of reinforced swimming pool liners that perfectly imitate glass paste (mosaic), with colours and joint grooves so realistic, you can hardly tell the difference. The use of the latest technological innovations in the PVC industry make it a high-end product with a total water-tightness guarantee of 10 years by the manufacturer.
Not only does this reinforced 3D liner of 2 mm thickness look like tiles, but it also feels like tiles to the touch!
Whether used for a new project or renovation, the technical characteristics of this product harmoniously adapt to any type of pool, in particular because of its elasticity, which facilitates installation and withstands any ground movements.


Faithful to the authenticity of the pools of ancient times, this new range is available in 4 models.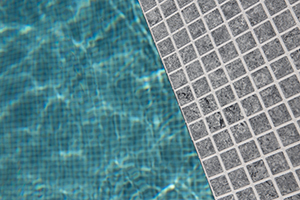 Etna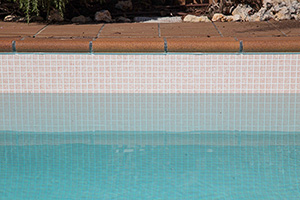 Sofia
SELENE - Moon white, it gives the water a crystalline and luminous tint, perfectly adapted to modern architectural styles.

ETNA - With its ash-grey hue, this liner covers the pool with elegance, bringing depth and sobriety to the pool.

SOFIA - The most authentic of the range, with a colour that evokes Roman baths. The salmon colour gives an extremely stylish turquoise blue reflection to the pool.

ATENEA – The classical and the traditional combine in the elegance of an intense blue.
The exceptional thickness of the RENOLIT ALKORPLAN CERAMICS reinforced liner makes it eligible for the class C non-skid coating certificate.

It is therefore not necessary to add a non-skid reinforced liner on the passage areas for bathers after installation.

This range offers an alternative to ceramic covering, without the inconvenience of loose tiles or joint failure in the long run!

It is fully waterproof and available in a large range of colours, motifs and textures to satisfy all tastes.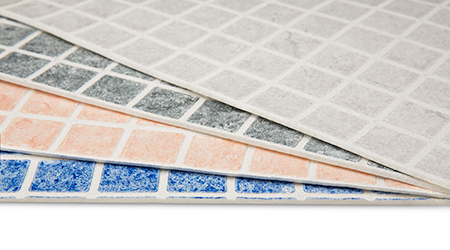 Installation is rapid and requires half the time that other materials usually need, and can be used on any structure.
The pools covered with this reinforced liner require very little maintenance as the reinforced sheets are varnished and antifungal and antibacterial treated. The varnish gives it increased protection against mechanical and chemical aggression and guarantees against the effects of UV rays and ageing.

The installation, to be done by a professional, is carried out using thermo-fusion with a hot air iron. Because of its exceptional thickness one may also envisage laying the pool floor liner edge to edge in order to smooth out certain welds, in which case a suitable geotextile will have to be laid.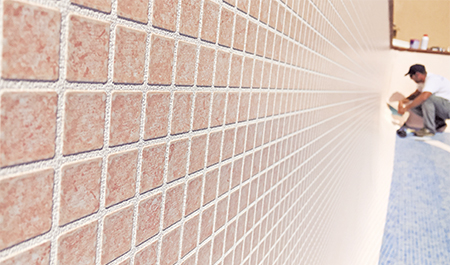 CERAMICS has rounded out the RENOLIT ALKORPLAN reinforced liner range.
This reinforced liner from the manufacturer comprises two flexible sheets (liners) in polyvinyl chloride (PVC-P), which render the pool fully and durably watertight. To impart high resistance to the sheets, they consist of two layers, with the insertion of a polyester weft, without loss of the elasticity of the product, an essential feature that makes it a waterproofing product par excellence.