The Swedish pool equipment specialist Pahlén launches a new skimmer Classic Wide 385 for private swimming pools.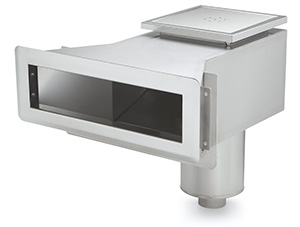 This new skimmer gives high water level with efficient extraction of debris and circulation.
Classic Wide 385 is made of acid proof stainless steel AISI 316L and is suitable for liner pools.

It has a vertically adjustable collar (30 to 70mm), an opening of 385 x 92mm and a large, high-capacity strainer basket.
Other dimensions: filtration outlet internal thread 2"; overflow outlet internal thread 1,5"; water refill inlet internal thread 0,5"; connection for water level control – diam. 13mm.