GRIDSOAP® responds to the growing demand for optimum cleaning of the evaporator and the heat pump exchanger.
Proper cleaning is important because an unclean evaporator or heat exchanger significantly reduces the efficiency of the heat pump.
In fact, when the airflow of the fan is slowed down by dirt, the heat pump does not operate at its peak.

A clean evaporator and exchanger assure energy savings for the user.

GridSoap® is a product specially designed to clean the evaporator without mechanical tools or risk of damage to the blades.

The product, which is used with a hand sprayer, is ready to use for cleaning in just 10 minutes.

In addition, this product is biodegradable and does not harm the plant life around the heat pump.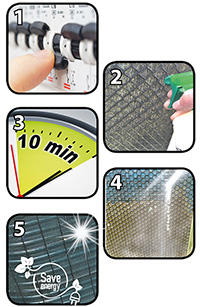 In practice, heat pumps are sometimes cleaned with a high-pressure cleaner that damages the blades. This results in irreversible damage.
Whilst a vacuum cleaner or an air compressor is not powerful enough to remove the dirt between the blades.
Heat pumps are generally fitted with a grid or a mesh, which prevent thorough cleaning.

The GridSoap® however, is designed to clean between the blades and even extends to the condensation water drainage area.
As the air then flows freely through the blades, the heat pump would freeze less quickly.

The protective film, incorporated in the product, also retards the deposits of any dirt and protects the blades against corrosion.
GridSoap® is available in 1.0L bottles with a hand sprayer, and comes with instructions in Dutch, French, German and English.