The first letter in the Greek alphabet, Alpha represents "beginnings". In this spirit, the latest addition to the SPECK Pump family also represents a new start – the dawn of a new era of optimal efficiency in small pools.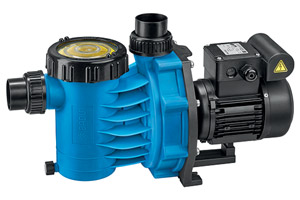 Environmentally sound, yet with an assured and improved output performance, BADU Alpha will enhance BADU's small output range.

Efficiency has once again been enhanced with the programmable BADU Alpha Eco Soft version, which numbers amongst the best in swimming pool circulator pumps.

Alpha does not only represent "A" in the Greek alphabet, but also the number "1" in the Greek numerical system, so it comes as no surprise that the manufacturer guarantees "A1" efficiency for this new pump.

In the world of finance, "Positive Alpha" is a term used to describe a return on investment in excess of what was forecast, and SPECK announces that, when it comes to efficiency, its new pump delivers exactly that.
With its newly redesigned hydraulics, Alpha is to set the new standard for small pools.
BADU Alpha is showcased at trade fairs throughout the autumn 2017, alongside the other pumps in the BADU range.

To be discovered at aquanale in Cologne