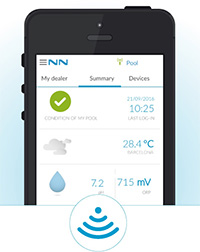 Fluidra Connect is an online service platform that enables the remote control of all of the settings involved in pool maintenance.
An interesting option for both pool dealers and end users
Using this service, dealers will be able to remotely control their customers' pools from the platform at www.fluidraconnect.com, and end users will have access to a free app for managing their pool settings wherever they are.
Fluidra has spent years on the development of Fluidra Connect and therefore now has more than 100 products that are compatible with Fluidra Connect from every category of product, which means it is now possible to enjoy a pool that is fully equipped with Fluidra Connect products.

All products compatible with Fluidra Connect are marked with the logo "NN".
Pool owners can control the main settings of their pools at their own convenience using the free Fluidra Connect app from wherever they like. They will therefore have the peace of mind that their pool is in a perfect state of repair at all times.

It is also possible to take on a maintenance service with a pool dealer approved by Fluidra Connect. By using this service, end users will have the added reassurance that their pool is being monitored by an expert 365 days a year, who will be able to test a pool's settings remotely so that any problems that could arise can be anticipated and solved. In addition, information is provided about the condition of all pool equipment.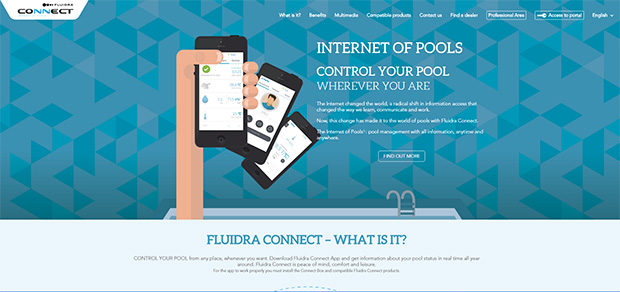 Pool dealers can build up customer loyalty
Fluidra Connect enables maintenance engineers to offer an exclusive service that will put an end to unnecessary call-outs to check out a problem. They will also be able to take on more customers, whilst increasing the effectiveness of their business as they will be able to anticipate end users' needs, provide added value solutions and make a major contribution to preventing problems before they arise.

Two categories for pool dealers: Basic and Premium

The Basic category is free of charge and allows pool dealers access to Fluidra Connect's basic functions.
The Premium category allows pool dealers full access to Fluidra Connect's functions and to provide their customers with an advanced control and maintenance service.