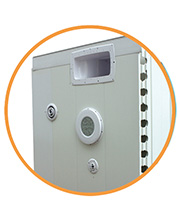 The POOLY® pool is a patented construction system from the manufacturer, equipped with a compact SKIM'BLOC® filtration unit, pre-assembled at the factory. The POOLY® can be equipped with the SKIM'BLOC Access comprising filtration, electrical box, lighting and bypass for heating; or the SKIM'BLOC Luxe which adds a salt chlorinator and a pH regulator.
The other star product from Piscines DUGAIN is the unique and patented triangular staircase of the DUGANCE® pool. Installed on the left or right of the pool, it frees up a large space for relaxing at the edge of the pool.

DUGANCE® is part of a complete range of swimming pools which carry a 20-year guarantee on their structures, thanks to their panels reinforced by a honeycomb construction without hollow alveoli.
The concept is patented, conceived and developed by PISCINES DUGAIN, manufactured industrially in France.
Thanks to its innovation - the double-reverse dovetail - the panels that form the pool are self-reinforcing and are made of virgin extruded PVC, in a single piece, without sealing or clipping. This technical material is resistant to sunlight (UV), external aggressions (water, acid earth, etc.).
The staircase is perfectly integrated into the pool, without discontinuity or breaks in the concrete, to form a single whole.