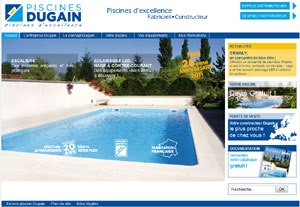 On the occasion of its 25th anniversary, DUGAIN POOLS has offered itself a revamp of its communications: new logo, new website ... now the emphasis not only focuses more on marketing and sales but also on extending the distribution network in France and Europe.
The new logo symbolizes this new interaction, together with the slogan "Piscines d'excellence" ("Pools of Excellence").
The new website - friendly, functional and informative - presents its entire range of swimming pools - ELITE - SPORTING - CRAWLY - NELLY - SPACY, various materials, the latest news, location of distribution outlets ... it also abounds with information and advice relating to pools.

An exclusive space is reserved for distributor-constructors of the DUGAIN POOLS network and includes new selling-tools.
The website can also be accessed easily from anywhere using the QR code that can be found on all its commercial documents.