Always striving to offer solutions to professionals for making installation easy, CCEI has designed a truly compact chlorinator that combines multiple features.
More often than not, the size of an equipment room is restricted and does not afford much space to accommodate a lot of appliances.
The Limpido Z combines several functions for the automation of water treatment in one compact unit. Its Z2 model combines the functions of electrolysis, pH regulation, and chlorine production based on water temperature. The latter also depends on the position of the cover.
The Limpido Z3 model also includes a redox regulation function. The unit is equipped with the innovative Zelia cell - the transparent and luminous cell lights up according to the status of the pool water. The cell, which has won several trophies for Innovation, makes it easy to monitor the quality of the water.
Easy to use and intuitive, the electrolyser is available in 3 models to suit different pool volumes: 30, 60 and 90 m3 - for automatic and comprehensive water treatment.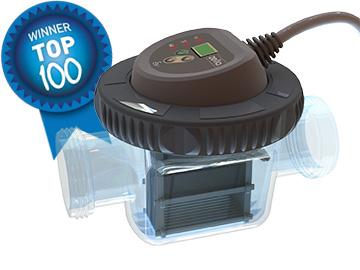 Zelia cell