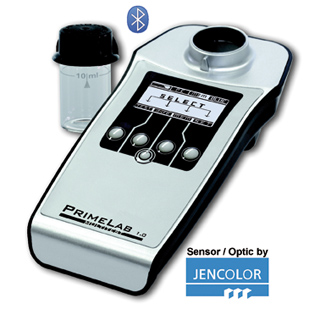 PrimeLab 1.0 Multitest with JENCOLOR sensor inside
The new PrimeLab Multitest 1.0 photometer from Anglo-German company Pool-i.d. is designed to cover the entire visual colour spectrum (380–780nm), enabling the device to test all parameters showing a visual colour after adding a reagent such as DPD tablets.

Featuring Bluetooth connection and software to manage test results, the new photometer is designed to connect automatically and quickly to a Windows PC to synchronise test data with the PrimeLab software, which also allows the user to activate additional parameters on the device by entering a code. More than 80 different tests are currently implemented, with more being added. The device is claimed to self-calibrate in less than a minute.

Users can enter their own water treatment chemicals for the software, then calculate dosage recommendations based on those chemicals and the test results synchronised previously. Test results and dosage recommendations can be printed or exported to PDF, Word or Excel.

Pool-i.d. have been developing and producing water testing equipment, such as reagent tablets, Pooltester, comparator, electronic meters, test strips and bacteria testing equipment, for more than a decade.