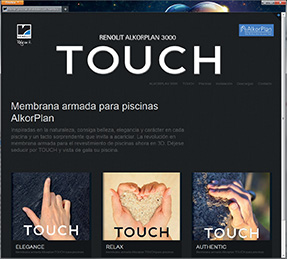 Renolit presented its new AlkorPlan3000 TOUCH range of reinforced membranes at Salón Piscina.
The latest generation liner, with the same high quality as the AlkorPlan3000 range, but now in 3D.
The TOUCH range, inspired by natural elements, stands out both for its visual appeal and touch. Swimming in a natural stone designer pool is a sensory experience, not only because the liner's natural colours in the water give you the feeling of being transported to an exotic and relaxing location, but also because of the touch which, with a wealth of detail, imitates nature more than ever.
These new designs make the fantasy of swimming in the sea or the garden, or taking a dip in a natural pool carved into rock a reality; more affordable and within everyone's reach. Inspired, primarily, by the sands of a Caribbean beach for the RELAX design, by rustic stone walls for the AUTHENTIC design and by the stylish elegance of slate for the ELEGANCE design, they afford unrivalled luxury and relaxation.