USSPA, the first manufacturer of acrylic massage pools in the CR and also one of the first manufacturers in Europe, has been operating on the Czech market for 18 years and thanks to the high quality of the products, the innovative design, from its own development and design workshops, and its professional competency, it is quite rightfully one of the market leaders in massage pools.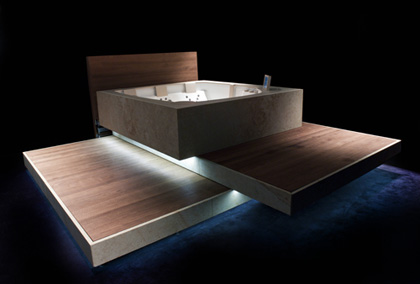 The SOLITAIRE is the company's flagship spa, demonstrating the high quality of the products and their design. It was first brought out on the Czech market in October 2011, in the form created by a group of authors from MOLO Architekti. Now USSPA has launched a new version of the casing, which, thanks to the use of distinct materials, once again makes the spa absolutely unique.
The new form of the bright white shell is complemented by the casing, which is made of the naturally beige Corian®, a material known for its excellent characteristics such as strength, resistance to abrasion and contamination, its lack of porosity and its ease of repair. The Spa's new casing is further complemented by the nobly designed natural wood treads made of Thermwood with solid sandstone sides. The wooden surface of the treads even has an automatic thermo-cover. The terraced treads allow smooth and easy access to the spa and at the same time provide space for lying and sitting at varying heights.