With the
Evergreen commitment
,
Clair Azur
has a deep concern for the integration of clean energy in the design of its spas. This eco-citizen approach focuses on democratizing access to «
green
» technologies. This spa manufacturer has therefore introduced patented panels design for
capturing solar energy
.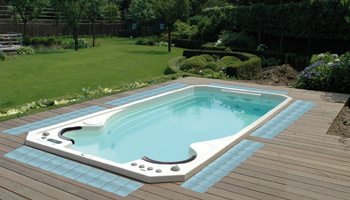 As everyone knows,
solar energy
is
clean
,
inexhaustible and free
.
The system consists of
panels that harness the sun's heat and retransmits it as and when it is needed
. The water that is present inside the panels is heated and then flows into the basin.
This is a closed circuit system where the water is maintained at a constant temperature. This method, fully autonomous, can be adapted to existing installations and is suitable for all
Clair Azur spas
. The panels have a glass plate finish in designer style that is discreet. They contain a number of incrusted
LEDs
that create a decorative effect even at night.