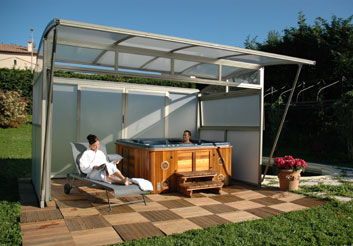 Clair'Azur launches its new range of shelters «Clair abri».

This
patented system, manufactured in France,
represents a real innovation in the field of spa shelters.
It is equipped with translucent panels that are resistant to UV rays and bad weather and let one enjoy natural warmth thanks to the principle of heating by solar energy and using the spa regardless of the season.
Equipped with a sliding roof and a fold-away front
, it is
adjustable
and lets one upgrade the installation by offering it an aesthetic and modern case while protecting it from sun at the same time and offering a possibility of adjusting the internal temperature of the shelter.