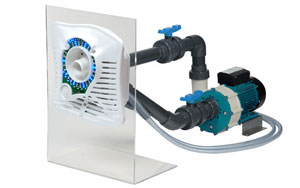 The French company Aqua Consult Industrie Service ( ACIS) launched one year ago the LUM JET VAG, a counter-current swimming system becoming integrated into the facade of the swimming pool. From recently, the remote control built by series, allowing the control of the counter-current swimming, is supplied with the kit. It can command the multicolours lighting LED, but also the available options, such as the Water jet kit or the massage one.
The kit comprises two packages, sold together or separately:
Ø63 or Ø90 sealing part with valves
additional sealing part with pump (2,3,4CV, mono or tri)

the facade
the electric box
unions and pneumatic control

the remote control (reach of 30 meters)

It also comes with the
new high-flow Ø42 mm nozzle
, patented system. Regarding the lighting, it benefits from a 3000 lumens power for 66 leds.