ACIS, the French manufacturer and supplier to pool and spa professionals, is launching a new, compact and ecofriendly cartridge filter for the next season.
ACIS, manufacturer and supplier to pool and spa professionals
Ecofriendly cartridge filter
The 6-Clone filter by Vipool guarantees a high degree of filtration of around 15 microns, and up to 10 microns with an anti-bacterial filter. With reduced water consumption and no need for backwashing, the 6-Clone is both economical and eco-friendly (5 to 10 L with the 6-Clone compared with 300 to 500 L for a classic filter).
Available in 4 different sizes, it is both compact and compatible with all technical rooms and pools. Its transparent tank enables easy visual inspection to check cartridge clogging. It is also very easy to handle: no 6-way valve and no need for a sewer connection.
New skimmer
Another new item from ACIS is the A500 NHL skimmer by Weltico, which has been specially designed to fit discreetly into the pool to enable the water level to be raised to only 45 mm below the pool edge. The result is a pool water level that is almost flush with the terrace, with an almost invisible gap between the waterline and the coping.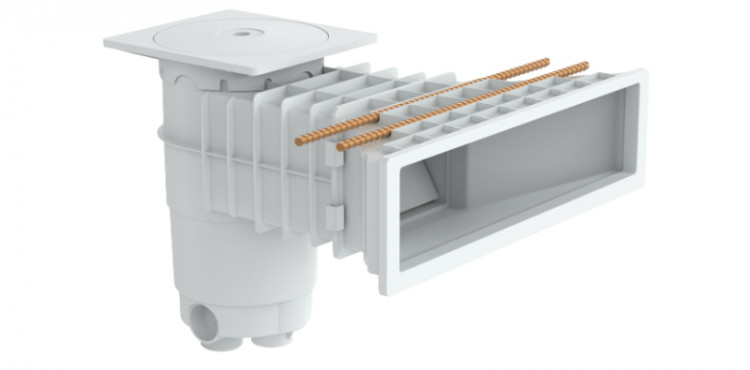 A500 NHL skimmer