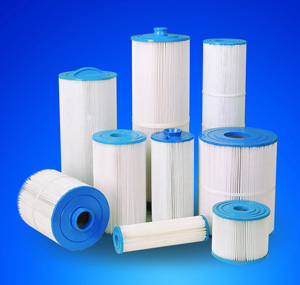 Brand-new company Filters4Spas Ltd i
s aiming to build the brand and image of Chinese-based manufacturer Darlly Filtration while distributing their products throughout Europe and making it much easier for consumers to buy the correct replacement filter for their spa.
Filters4Spas directors Phil Moseley and Gil Gingell
are confident of success, and are keen to promote what they see as the key benefits of doing business with China. Gil Gingell says that, unlike the vast majority of filters on the market, all Darrly filters (apparently making up 40% of filters in UK hot tubs) will now clearly have their part number on the filter itself, and are urging their OEM customers to do the same – all intended to save hours of frustration for consumers in scouring the Internet for the correct part. A comprehensive chart is also being provided to give the end-user and retailer alike an easy way of identifying their cartridge filter.
Phil and Gil seem so confident in their product, that they will send out a filter sample to retailers free of charge, and also claim to be the only supplier
to offer a 12-month money-back guarantee (as long as the warranty is registered online at time of purchase).
Filters can be purchased from
Filters4Spas in cartons of four or nine,
pallets of 300-500, containers of 2000-4000 or 4000-10,000, with volume discounts available. "
In the wet leisure industry, we seem to be bogged down with this ancient 'Made in China' syndrome,
" says
Phil Moseley
.
"I have been dealing with China for some while now, and I have to say their honest, polite, modest and hard-working ethos is a real breath of fresh air. Switching my business dealings from West to East has been easy.
"
The company's websites were launched at the beginning of January and orders are being taken with immediate effect, with shipments commencing after the Spatex show.