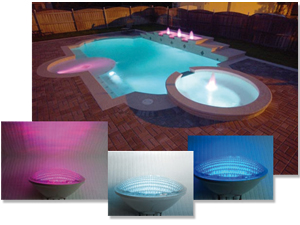 WA Conception
, designer and manufacturer of cabinets, armoires and automatic electric controls introduces its
new LED bulbs
for swimming pool lighting. Thanks to this new, very low energy consumption technology, these
new LED bulbs can be installed without any renovation or modification of the existing installation
.
Their electrical consumption is 90% less with similar luminosity to a classic halogen bulb, and they are compatible with 300 W PAR56 halogen bulbs. Installation costs are lower for new construction, because the required power cables are smaller.
The LED bulbs last up to 50,000 hours
(compared to 2,000 hours for a classic bulb).
The bulbs are offered in white or in
19 colors, with 252 or 315 LED
, and can be programmed.