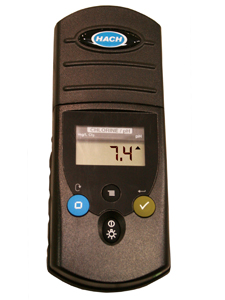 Hach Company
, the maker of
AquaChek® Pool & Spa Test Strips
, announces the availability of
Accu3™
, a high-precision portable digital meter specifically customized for the pool and spa market. The colorimeter delivers professional accuracy comparable to lab instruments, and
tests three critical parameters: Total Chlorine, Free Chlorine, and pH.
This innovative meter uses fast-dissolving DPD powder pillow reagents, packaged in single doses with a 5-year shelf life and an expiration date, for Total and Free Chlorine. The pH test uses a convenient dropper-tip bottle of phenol red. Digital results appear in just 5 seconds!
The meter stores the last 10 measurements along with the time each was taken.
Manual calibration is not necessary and this device is waterproof to IP67 standards. Refills for the reagents will be sold separately.