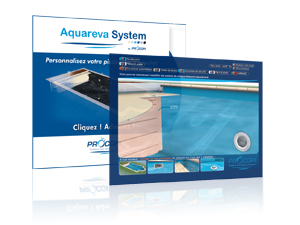 Group Procopi introduces an innovating tool to design swimming pools: the Aquareva System and Liner System softwares now allow you to preview your project as the building stage has not even begun.

In 2 minutes and a few clicks it is possible to set up an entirely customized swimming pool by selecting colour combinations: liner, pool fittings and automatic cover (slat apron, Delta Lock fasteners, pit wall, beam and duckboarding).

This user friendly and easy to use software is intended for everyone, private users and professionals. Aquareva System is available online on the group's website and can be ordered by e-mail.