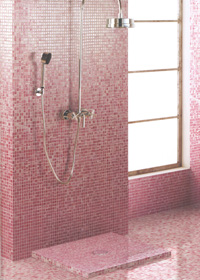 This year,
Opiocolor
, the molten glass producer, is featuring a series of transparent glass mosaics that have coloured bases:
the Crystales
.
Completely translucent with very smooth softened edges, these glass panes are available in shiny and mat formats.
Modern look, a pallet of 60 colours.
Basic dimensions: 20 x 20 mm up to 50 x 50 mm.
Perfect for showers, bathrooms and spas, pools, kitchens, etc…
Customisation is available. Perfect for pool and wall coatings, etc...