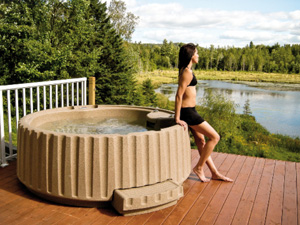 LUMI-O International launches the spa-Ô,
a rotation-moulded spa that makes balneotherapy accessible to everyone. It has 4 spacious ergonomic seats and a deeper resting bench.
This model is fitted with 12 powerful hydro-therapeutic jets (8 are adjustable) and a Balboa digital control for lighting, jet and water temperature adjustment. It has a 1 CV two-speed pump and winter insulation.
To simplify access, there are integrated, retractable stairs (patent pending). Constructed in a light, resilient and easy-to-maintain polymer, it is available in 3 colors.