Del's
Securiwall
solves the problem of providing an
in-ground automatic cover system
as part of a liner pool system.
Available in the UK from Golden Coast, the
Securiwall
system allows a bulkhead to be built within the pool itself to create an internal roller pit.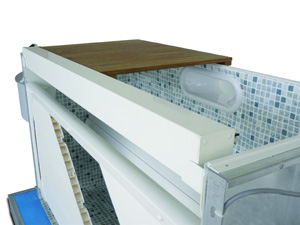 This was previously a complicated and costly procedure that was difficult to achieve without compromising the integrity of the pool liner.
The system also offers additional safety as, once retracted, the roller cannot be accessed by swimmers – removing the possibility of clothing or fingers being trapped between the slats.
As a standalone rigid PVS structure,
Securiwall
creates a separate and easily flooded motor pit, allowing the mechanism to be hidden out of sight, with the cover moving freely through an aperture above the bulkhead itself.