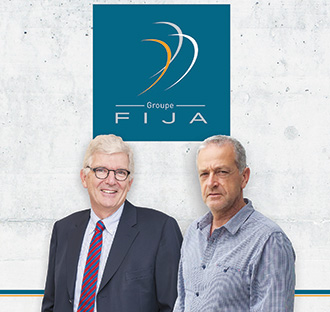 On the left: MArc MAUPAS, President of FIJA Group
On the right: Stéphane HISETTE founder of ACL
FIJA Group continues its development in France with the purchase of ACL, a swimming pool equipment manufacturer and distributor in south-west France.
A leader on the swimming pool market, FIJA Group today announced the purchase of ACL (ACL, TPS and ATC brands), a company specialising in the manufacture and distribution of swimming pool equipment in the Bordeaux area.
ACL was founded in 2009 and today has a team of around twenty people based in Bruges, near Bordeaux. The company has developed remarkably over the last 5 years. Well-reputed for the quality of its products, its operational flexibility and commercial vitality, ACL is also recognised for the quality and proximity of its customer service.
With this acquisition, FIJA Group will broaden its offer and confirm its leadership in south-western France.
Marc Maupas, President of the group, explains: "This acquisition is a fabulous opportunity for our two companies and a formidable catalyst for synergies. Firstly for FIJA. Strengthening our positions in the south-west, this merger with ACL represents the integration of a very competent team, a recognised structure that is appreciated by customers and a high-performance production tool. For ACL, joining a group like FIJA means a raft of administrative, financial, technical and commercial support that can only be beneficial, ensuring the group's emergence throughout the zone and pursuing our accelerating growth."
Stéphane Hisette, founder and director of ACL will now have a role supporting FIJA in its commercial growth objectives for the entire ACL catchment area.