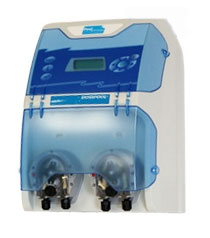 Automatic dosage

Dosipool® controls the two main functions of your water's treatment: the disinfection and pH regulation.

All you need is to set the desired dose on an hourly timer and Dosipool® diffuses the necessary disinfectant dose throughout the day.

Also Dosipool® automatically regulates the swimming pool water pH thanks to a
probe which analyses water continuously and to the injection of correcting pH agent to maintain the pH to an ideal level (7. to 7.2)

Thanks to its revolutionary technology, the chlorine probe (optional) measures
instantly the free chlorine existing in your pool and makes Dosipool® 100% automatic. Dosipool® will regulate your chlorine level by automatic liquid chlorine injections.
Features:

• One single model : For pools up to 160 m3
• Two versions : -Version with 2 peristaltic pumps(disinfectant & pH), -Version with 1 peristaltic pump (pH) and 1 solenoid valve for tablets distribution (disinfectant)
• Hourly dosage of disinfectant adjustable from 0 to 900 ml/h
• Adjustable set point for automatic pH regulation and free chlorine regulation (option)
• Hardware ready to use: Shipped with its pH probe and accessories
• Users manual: Setting up, choice of languages, pH adjustment and pH calibration.
• Professional manual: Parameters, timer, history and software update.
• Digital display: production / pH /water temperature / recommended filtration time
• Alarms: water shortage/ no flow / low temperature / low or high pH / pH overfeeding
• Display in 7 languages (French, English, Spanish, Portuguese, Italian, and Dutch)
• Compatible with all filtration systems and any pool lining
• May be installed on a new or existing pool
• No calibration of the chlorine probe (optional)
• Optional mounting of the chlorine probe in BY-PASS
• Hardware & accessories guaranteed 2 years from purchase date (pH & Chlorine probe included).


Option: Free Chlorine probe to regulate disinfection 100% automatically
Option: Empty can alarm for pH correcting agent