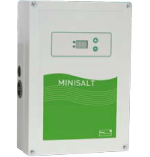 Suited for swimming pools up to 50 m3, MINISALT produces a powerful and effective disinfectant by saltwater chlorination. This keeps you free of chemical disinfectants throughout the swimming season. From lightly salted water as 5kg per m3 (1/7th as much as ocean water) Minisalt manages the cleanliness of your pool entirely on its own. The disinfectant production is easily adjusted at the touch of a digital key to match the pool size and frequency of use.
Compact and water-resistant, Minisalt is perfectly suitable for above-ground and in-ground pools with small installation area or filtering walls.

Minisalt fits all filtration systems and pool surfaces. It is also easy to install and use.


+ 2 models: one for pools reaching 30 cubic meters and another for 50 cubic meters in temperate climates. 25 cubic meters and 40 cubic meters only in hot climates.
+ Equipment ready to use: shipped with its chlorination cell
+ Compact and water-resistant
+ Adjustable production from 0 to 10 at the touch of a digital key
+ Self-cleaning cell with progressive polarity inversion at fixed period of time.
+ Digital display to show the chlorine production
+ 2 lights: green indicates correct operation/ red indicates a malfunction
+ Works for all salt concentrations above 2.5 kg per cubic meter
+ Production of active chlorine : up to 17 g per hour
+ Compatible with any filtration system and linings
+ May be installed in either an existing pool or one in construction
+ Cell: in line mounting without any orientation hassle
+ 2 years warranty for your purchase of MINISALT and its accessories

Option: hydraulic ground kit to eliminate any electrostatic discharge
Option: short cell (165 mm) for small installation areas.