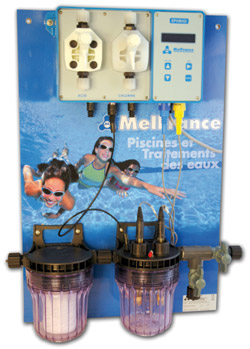 The
ERP105
dosing panel of
Melfrance
with alphanumeric LCD screen and microprocessor integrates two dosing pumps:
one pH and the other redox.
This compact system that is easy to install provides an ideal solution for regulation as well as pH and chlorine dosage.
A backlit alphanumeric screen (16x2) helps in visualising the pH and redox values on an ongoing basis. The screen facilitates the regulation for commissioning for benchmarking of the device providing all the necessary information to the user.