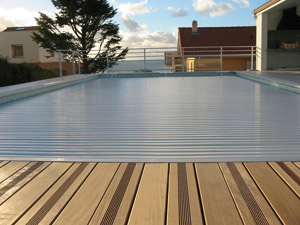 Aqualife
is a complete range of automatic covers that conform to French standard NF P90 308 and is of an ingenious design as it meets all safety, aesthetic and user requirements.
The covers are quick and easy to install, require very little effort or the need to make any holes in the structure or attachments through the wall.
The covers are compatible with liner and woodline pools, and with the immersed alarm system from
Sensor Espio
.
For 2010, the entire
Aqualife
range will benefit from the latest in product development, with a new shape cutting system, adjustable buttons and a new above-ground storage model.