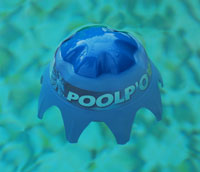 MEIP International presents an "all-in-one" treatment solution Poolp'o
In original display - its ergonomic form provides ease in holding without directly handling the chemical product. Once the product has been consumed, it rises back to the surface thus informing you the need for restarting the treatment.
It causes 4 actions: disinfectant, anti-bacterial, anti-algae and flocculant.
It does not harm either the filtration, thanks to its optimised form, or the skimmer flap because of its small size. The product, which is a new flocculant compatible with the cartridge-type filter, is a non-oxidising product.

It is ideal for above-ground pools with or without filtration that undergo a monthly treatment.