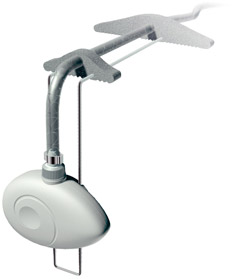 NivOmatic is a level regulator for all pools (existing or under construction, above or below ground), available in a complete kit for detachable installation on the border (connects to the watering hose), or permanent installation, in various possible configurations.

For all types of pools
Traditional | polyester shell | wooden pools | composite panels | metal | above ground

Installation principles

• Detachable installation, put together in 3 min. by the customer
The kit includes a support-brace (stainless steel 316L) that rests on the coping. Anti-slip foam pads guide the supplied feeding hose (2m), which is to be connected to the regulator's body on one side, and to the rapid connection on the other side. You clip the NivOmatic onto its support, you set the desired height, you connect to the water hose, and it's ready!

• Permanent installation on a domestic network
Whether for a new job or for renovation, you can offer a simple solution for water level regulation (saving water and products, equipment safety). It is possible to use it jointly with an overflow system, for both high and low security.

- Very simple and dependable thanks to an original product design, with three stainless steel mounting legs allowing for multiple installations: on certain skimmers, filter units, on a crossing wall, under duckboards, etc… The NF Base membrane gate was tested up to 200,000 cycles, from 0.5 to 8 bars.

Patented product, brand and model have been registered.