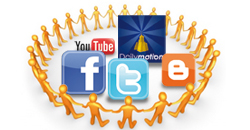 More than ever, 2012 will be [email protected] for our multi-media supports EuroSpaPoolNews.com & PiscineSpa.com.

We decided, a few months ago, to focus on the potential of online communities and social networks.

The numbers speak for themselves: our community today consists of almost 2,000 members, each day more than 1,000 guests visit the pages of EuroSpaPoolNews.com and PiscineSpa.com, photos and pertinent information published daily are «liked» by dozens of fans.

There are still too few of us from the Pool and Spa sector present on social networks which are real tools for communication.
We therefore invite you to come join us soon on Facebook and Twitter.

Loïc BIAGINI and the IMC team
Go to:

Facebook : www.facebook.com/IMC.eurospapoolnews


Twitter : http://twitter.com/eurospapoolnews

Dailymotion : www.dailymotion.com/eurospapoolnews

Youtube : www.youtube.com/Eurospapoolnews



Blog : http://piscine-et-spa.blogspot.com