STRENGTH OF A GROUP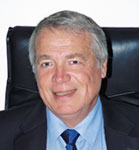 Jean Marc LATREILLE
President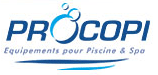 The Procopi group earns a turnover of more than 58 M€, employs approximately 270 people and is present in France and abroad where it earns 20% of its turnover.
Its marketing strategy is mainly based on a strong regional presence that helps it offer geographical proximity, after-sales service, technical as well as stock advice and a showroom. Its clientele consists exclusively of swimming pool and spa professionals.
Procopi is present in export markets through its own Export departments (in Germany, Gémenos and Trappes) and through distribution firms that are directly located in their own markets.
LOGISTIC ORGANISATION AND PRODUCTS
Procopi has a strong logistic support and substantial means of storage: 4 big logistic units were created in Guingamp (22), Rennes/ Le Rheu (35), Pleumeleuc (35) and Marseille/ Gémenos (13).
The group is the foremost French multi-specialist manufacturer in the field of designing, manufacturing and distribution of equipments exclusively dedicated to companies in the field of swimming pool and meant for construction and maintenance of swimming pools and spas. Its wide range of products includes: pool fittings, swimming pool structures, automatic covers, injected filters, liners, spas, sand filters, heat pumps, etc.