Fluidra, a global leader in the pool and wellness equipment sector, increased its spending on R&D&I to reach EUR53 million, the highest figure in its history. This figure has more than doubled the EUR25 million invested in this field in 2019, the first full year following the merger with Zodiac.
Fluidra increased its spending on R&D&I by 37% in 2022
The company's increased spending in this area over the past few years has been reflected in the business' vitality index, which measures the proportion of sales of products launched over the past five years. In 2022, this index stood at 19.7%, which translates as EUR471 million, 53% up on 2021.
In the framework of its strategy, Fluidra is working to centralize R&D in a network of four of its centers to gain an overview of solution-oriented pools, rather than having separate product categories. Thus, in addition to teams that work on innovation, these facilities will take in other relevant areas for the innovation and development of products, such as management teams, product conformity, intellectual property, open innovation, sustainable products and IoT, amongst others.
The centers are strategically located to meet the specific demands of each region in terms of new products and solutions. Thus, the facilities in Carlsbad (USA) will provide services to North America, those in Polinyà (Spain) to EMEA, those in Braeside (Australia) to APAC and those in Belberaud (France) to the rest of the world.
"R&D&I is a core part of our DNA. We are well aware that success in the pool market depends on equipment that, on the one hand, is easy to use, install and maintain and, on the other, sustainable and reliable. We therefore focus on delivering the best solutions adapted to the needs of our customers", explained Martí Giralt, EMEA Manufacturing General Manager (FMD) from Fluidra.
In 2022, the company completed the construction of its latest center in Polinyà, with the aim of centralizing work in the region in order to gain in efficiency and focus. It is anticipated that the center's R&D laboratory will open this year equipped with test pools to try out the products that are designed.
The laboratory will have mechanical test equipment, climatic chambers and accelerated aging chambers, in addition to 3D printers for prototyping designs faster.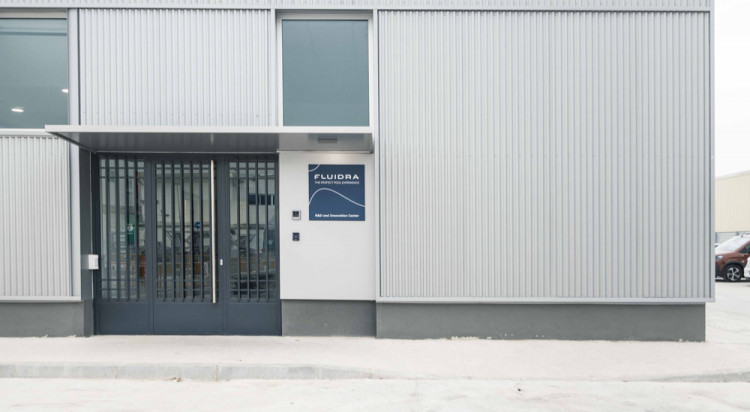 Entrance to the Fluidra's EMEA R&D&I center in Catalonia