What happens when an electronics engineer meets a pool specialist with over 30 years of experience? A formidably efficient collaboration to which each can bring totally different but perfectly complementary expertise. Everything seems easy with them... so why complicate things?
YNEOM invents connected simplicity
We met Yann Cottreau, the engineer, in the YNEOM offices in Six Fours les Plages, in the south of France. Matthew Ransom joined us via videoconference from his offices in Germany. The interview is purely 'off the cuff'. Nothing was prepared beforehand. The discussion on both sides was calm, natural and well thought out... no doubt a reflection of their creation.
Their personalities are nonetheless very different, and that is probably the secret of their combined strength.
With Yann Cottreau, we perceive a very pragmatic intelligence and an obstinate determination to reach his goal. Straight talk with no useless or superfluous language. 'Simplified efficiency' is his obsession. After 25 years working in technology companies to develop products in the autonomous device navigation and robotics sectors, he 'fell' into the pool world by chance during a period of immobility due to a broken collar bone. 'Stuck' at home with an ever-active brain, he decided to develop his own pool management system connected to his telephone.
Their common goal: to develop an approach of 'simplicity' above all, in order to make the connected pool experience 100% pleasurable, with no technical barriers. YNEOM proves that technological sophistication has (at last) made itself easily accessible to both professionals and users.
As for Matthew Ransom, the pool sector is his natural playground. He has wide experience in the field and knows the market perfectly, along with its expectations and its needs. Born the son of a pool installer in Jersey, he always dreamed of coming to France. He left his native island when he was 18 and crossed the channel to learn the language while working at DEP (which was to become PROCOPI). He pursued his career there and took over the management of international sales in 2010. He left the group in 2020 to create his own e-commerce BtoC distribution company in Germany. It was while he was searching for connected solutions that he met Yann Cottreau.
The stage was set for their story to begin...
Pragmatic, practical, simple.
With this triple objective, the development of a differentiating connected solution grew in Yann's mind. A great deal of discussion and numerous meetings were necessary to meet the precise expectations of professionals and users alike. It was therefore only logical that he should participate in the most recent edition of the Piscine Global Fair, in 2018. Pool installers, networks, manufacturers, distributors... everyone goes there to obtain a clear picture of this booming market. The result is an incontestable demand for remote management... at a time when Covid-19 had not yet put a damper on travel!
His observations:
Pool maintenance specialists observe that one visit out of three is for... no reason! They would prefer to take advantage of this wasted time, to grow their business portfolio, for example. For them, the connected pool is thus synonymous with development.
Pool installers wish to meet the demands of their customers on condition that the equipment is both easy for them to install and reliable for their customers.
Applying the same principle to survey customers, he observed that their expectations are systematically oriented towards the simplicity of use, whether for pools located in second homes, rentals or in the homeowner's main residence.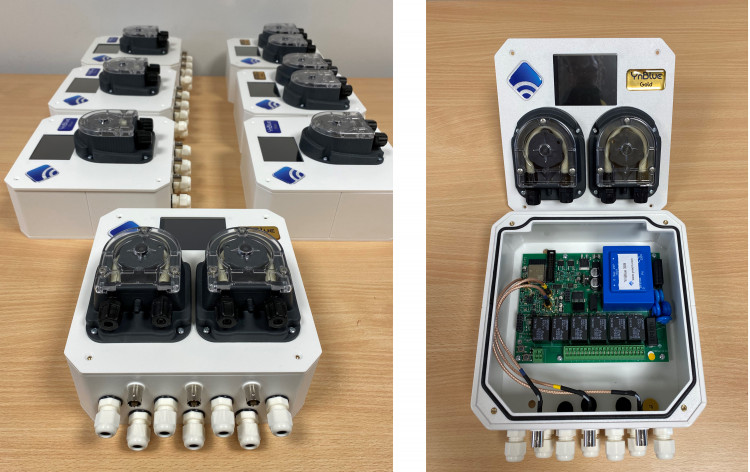 The different YnBlue models and the interior of the box
Yann thus gathered all this information to pertinently address the needs of both private users and professionals. One year of work, backed up by full-scale tests on 10 equipped pools, was necessary before the process was industrialised. Here too, everything remained concrete, while waiting for feedback from these installations.
It was only after these surveys and trials were completed that YNEOM was founded with Nicolas Genthon, an expert in Quality, Safety and Environment as well as Lean Management, in June 2020, during the thick of the health crisis.
That year was also the year of Piscine Connect. And that is when Matthew came on the scene to begin the adventure.
Matthew clearly announced that, in addition to the simplicity of the process, its appeal also lied in its wide range of possibilities for future development.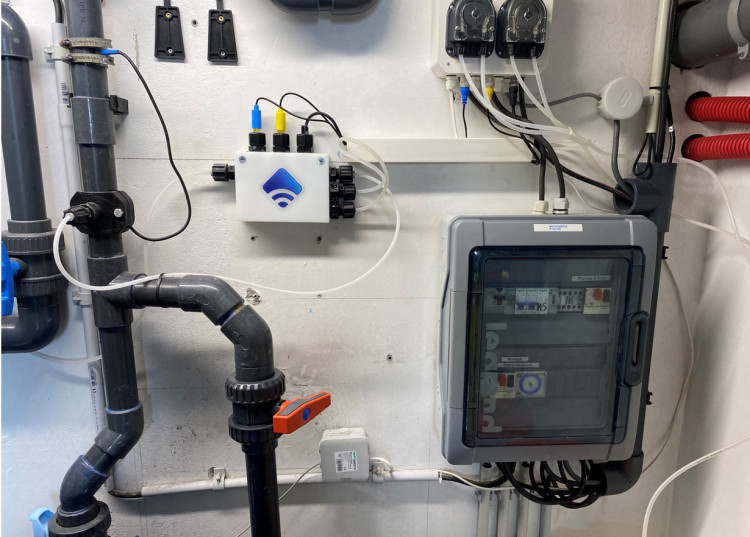 The YnBlue box and analysis chamber in the technical room
YnBlue: 3 components... and no more!
An automatic control unit to connect to the pool electrical equipment (filtration pump, electrolyser).
An analysis chamber that houses the sensors: temperature sensor, pH sensor, ORP sensor or amperometric sensor, depending on the required option. The system is delivered with the hoses to connect the analysis chamber.
A free downloadable application that provides a synthetic and global view of the water quality, the devices currently running, and product supplies. It takes the 4-day weather forecast into account. But that's not all: the user can anticipate treatments by indicating, for example, the arrival of a group of friends! The advanced settings also enable users to connect and control new devices, but also to calibrate the sensors or to authorise other persons (neighbours, professionals, etc) to have access to the YnBlue controls.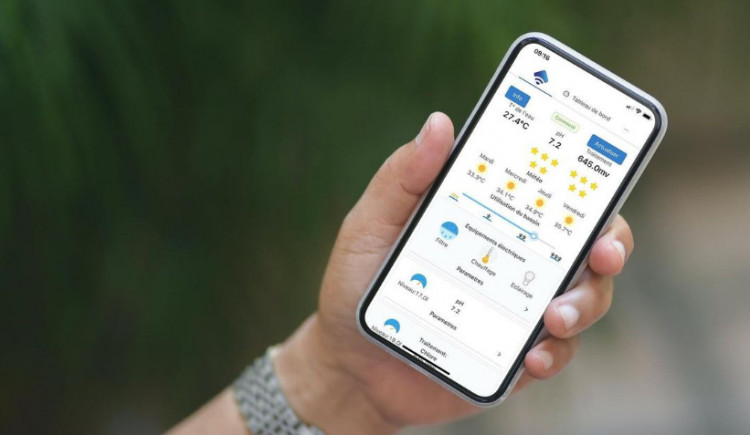 YnBlue App for set up of treatments, control equipment, shock treatment...