Interview with Jean-Louis ALBOUY, General Manager of SCP Europe
You took over as General Manager under unusual circumstances...
The Covid period, with all its restrictions, has had diverse consequences. Negative for some, but also very positive for others. These last 6 months have enabled us to concentrate on the internal interactions among all our European subsidiaries. It was a question of establishing strong synergies with the various national managers in order to reinforce a single identity, in a strong relationship with the initial spirit of our mother company in the USA (whose organisation was entirely revamped two years ago). The goal was clearly to maintain the particularities of each country to ensure proximity and a service adapted to local needs.
Not to mention the relations established with our suppliers during these troubled times... Our partners have played a major role throughout this period, providing an exceptional effort.
So, the season has been ambitious in terms of sharing, but it has proved to be more than satisfactory. Despite a complex context, we organised four intense one-week workshops to build the future of SCP. The teams had not met physically for a long time. They came out of it full of enthusiasm! The task was huge, but a new dynamic has been created among us, giving us a sense of pride!
The results announced for Europe are also surprising!
Indeed, 2021 will be exceptional, with sales that will reach over EUR230 million. That represents growth of EUR55 million for Europe. The increase in sales is close to 36% compared with the previous year, with a difference depending on the geographic area. The north is particularly dynamic, compared with the southern zone, which was more affected by the decline in tourism. The health situation has slowed down public projects, especially in outdoor accommodation. Despite all this, we have observed a development of 11% in new constructions in southern Europe, while the north has grown by 20%.
But the figures are not all. During each of the past two years, we have launched a customer satisfaction survey throughout Europe in order to assess all our services. The feedback is very satisfactory and has even progressed this year. It's a real source of satisfaction for us. Our NPS (Net Promoter Score) is over 35%.
Has Spain benefited from a special attention for SCP?
Without a doubt, because in this country we have accumulated remarkable results, especially with regard to the competition. The opening of a new agency in Malaga with a very large sales area has contributed to this. Similarly, the reinforced team at our Madrid agency has also participated in the dramatic acceleration of our growth in Spain. The work of these two agencies will take us over the EUR30 million mark for sales in 2021, i.e. an increase of 26%. In this country, we have also benefited from very efficient logistics, which have been moved to the Balearic and Canary islands. Yesterday's groundwork is paying off today.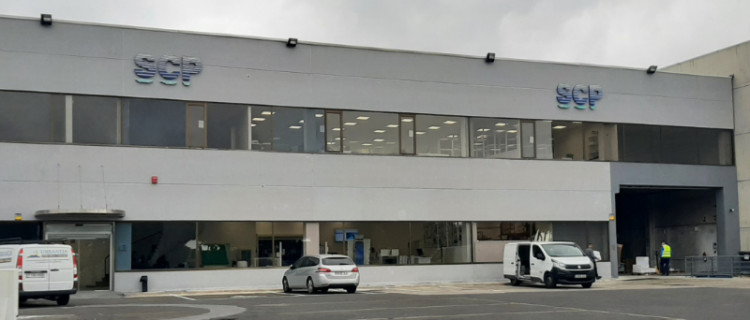 The Malaga agency
So, the outlook for SCP Europe is very bright?
Our presence in all the major European countries for the pool sector has enabled us to position ourselves as the leader in BtoB distribution for this market. Our ambition is clear: to continue on our trajectory and consolidate our market share in all regions. From 2022, we will announce good news, especially in France, with a new regional agency in the north.
As far as Spain is concerned, it is our ambition to double our market share, with an objective of reaching 25% in the short term. This will of course involve creating new sites, but will also entail acquisitions. With our director, Salvador Mauri, we have finalised the construction of our strategic plan for the next few years. This includes strong internal reinforcement in terms of managerial resources to prepare our future.