Marquis® Dealers from around the world gathered in Salem, Oregon to attend the University of Marquis 2018 International Dealer Event at the Salem Convention Center on February 19th, 20th and 21st. Dealers attended educational sessions during the day with banquets, entertainment and awards at night.
The event was the largest in Marquis history, drawing in almost 300 attendees representing 105 Marquis Dealerships from the United States and Canada and as far as the United Kingdom, France, Spain and Sweden. Marquis, headquartered in Independence, Oregon, just twenty minutes from the Salem Convention Center, also gave their dealers the opportunity to walk through the factory to see how their hot tubs are made every day.

"I loved the opportunity to gather Marquis Dealers together. For them to have the chance to walk through our factory and experience exactly how Marquis' employee-owners work together to create our product is invaluable," said Marquis' President and CEO, John Schrenk.

The event featured educational sessions on various Marquis topics such as sales, service, and marketing and showcased local talent including author and keynote presenter, Patrick Galvin of Portland, Oregon, magician Hart Keene of Eugene, Oregon and Designband of Lake Oswego, Oregon. In the evenings, top salespeople and dealerships were honored for their outstanding achievements throughout 2017. Marquis also unveiled new product including four new hot tubs and one swim spa/party tub.

"Making Marquis Magic was the perfect theme for a magical week of momentum for our company and our Dealer network. Everyone left for home with a great sense of opportunity with our brand," said Marquis' Vice President of Marketing, Jim Johnston.

Marquis was supported by industry partners Balboa Water Group, Lucite, King Technology, Spa Retailer, Phoenix, CMP, and Wells Fargo to help make this magical event possible.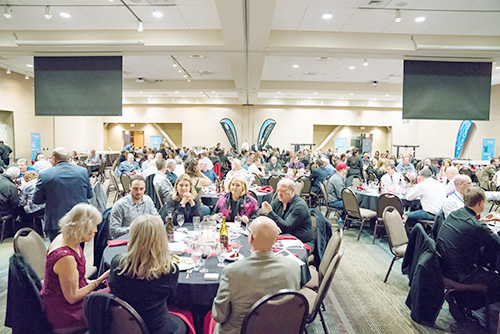 French dealers of Marquis Spas EUROPE SPA