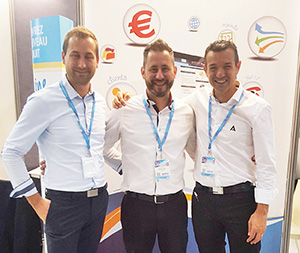 Sébastien AGUADO, Oscar PALLAS
and Anthony BODY
The internationalisation of EXTRABAT PISCINES, the integrated management software for swimming pools, has commenced.
First stop, Spain, very strong demand.
Anthony Body, its creator and head of the French company that publishes the software, embarked on a conquest of this new market at the beginning of the year, thanks to a partnership in Valencia.
This association with Oscar Pallas, with the backing of Sébastien Aguado, his partner in Perpignan, allowed him to set up an "ideal store" locally for swimming pool builders.
The aim is to attune it as closely as possible to the particular nature of the Spanish market, with its specific demands, while maintaining the main principles of the software.

For its users, telephone support is available from Spain.

To be discovered at Piscina & Wellness Barcelona