Happy Water Trip for International visitors is going to kick off on 14th May, 2017. Organized by Asia Pool & Spa Expo Committee, Happy Water Trip is a good opportunity to exchange business ideas with local manufacturers and further experience their products directly.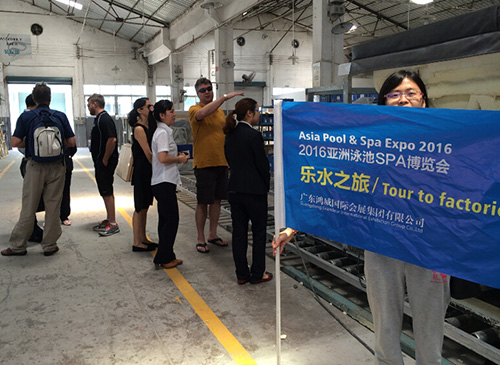 Happy Water Trip 2016 successfully closed on May 16, and received a good welcoming. Nearly 30 international visitors took active part in the trip to 3 brand enterprises including Guangzhou Monalisa Sanitary Ware Co.,Ltd, JAZZI Pool & Spa Products Co., Ltd. and Laswim Pool and Spa Equipment Co., Ltd. It was an interesting experience for them to discuss products, visit factories and even taste Chinese foods.
Happy Water Trip 2017 would be much more diversified and efficient, compared to Happy Water Trip 2016! On the basis of visitors' purchase demand, several visit routes will be scheduled to perform, including the fields of swimming pools, spas, saunas, water features and water parks.

Anyone who is interested in Happy Water Trip 2017 has to contact the organisers for free registration before 10th April.


Asia Pool & Spa Expo 2017
Date: 12-14 May, 2017
Venue: Poly World Trade Center Expo. Guangzhou, China


For more information, contact:
Guangdong Grandeur International Exhibition Group Co.,ltd
Office Add: Room 301, No. 7, the First Street of Kehui Jingu, No.100 of Kexue Avenue, Science City, Huangpu District, Guangzhou,China
Mob: +86 13416279371
Tel: +86 20 22074185
Fax: +86 20 82579220
E-mail: [email protected]
Website