The UK's largest wet leisure Exhibition, SPATEX, invites Pool professionals not to miss its 21st anniversary spectacular - the biggest and best Show in its history - from 31st January to 2nd February!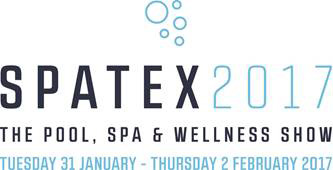 100's of NEW products and innovations from more than a hundred of the world's leading suppliers and manufacturers. For example:
Barrel sauna - Almost Heaven
• Almost Heaven from America's West Virginia will showcase its stunning barrel saunas.
• Aquafeat will feature its clever polypropylene modular structure with steel framework for concrete pools.
• Certikin - the new look Watkins CalderaSpas Utopia Series Cantabria (different in all but name)
• The Brio Group is offering 20 per cent discount off pool plant training, risk assessments or audit for 2017.
• Waxman Ceramics will be introducing a new Anti-Slip tile Collection for poolside areas.
• See the full exhibitor list.
42 NEW Seminars and Workshops featuring 35 speakers offering free education and training that is unmatched anywhere in the world. You can rest assured all the traditional subjects will all be covered but in addition there's lots of new topics. Attendees of the workshops receive CPD points and certificates of attendance. Further details on these and all the other seminars and workshops.
Don't miss the SPATEX networking party on Wednesday February 1st at 5pm in the Ricoh Arena with free drinks, food and a lot of fun. All exhibitors and visitors are warmly welcome. Stay the night and see SPATEX at your leisure.
Go to www.spatex.co.uk to see the great discounted rates with nearby hotels.
Note that SPATEX is offering a FREE TAXI from Birmingham Int. Airport (20 minutes away) for all international visitors. Please email Helen in the SPATEX office [email protected] (T: +44 (0) 1264 358 558) with your flight details and she will do the rest.