In Europe, more and more showrooms are dedicated to hot tubs, along the lines of what has been done in the United States for decades.
To outfit and furnish these new stores, we already know the traditional POS presentation displays for treatment products (Bayrol with Spatime, Arch Water with Experts hth and Essentiels hth, fragrances from the "Laboratoires Camylle", etc.).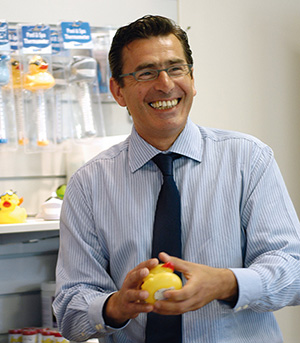 Régis FAUVEL
For their part, "Hot Tub Accessories Essentials" have provided a set of specific products dedicated to hot tub stores composed of carefully selected products from qualified manufacturers for 5-6 years. This comprehensive range is available from the British online store "Golden Coast" and from a superb 80-page catalogue.
Régis FAUVEL has been in charge of European sales of "ESSENTIALS" products since 2013, and answered some of our questions:

Do some manufacturers offer their own lines of equipment and accessories alongside their hot tubs?

Some hot tub brands do effectively also offer their own equipment. But many showrooms still see their range as being inadequate in terms of consumables, accessories, and gadgets for hot tubs, which nevertheless are important marketing components for enhancing and boosting hot tub sales. Hot tub stores can equip themselves with sets of shelves of the type that can be found in Rétif or Metro... or even central or wall fittings, sold by companies specialising in shop fittings.
I have a store, I want to outfit it: how should I?

On our website you can make a selection of products and arrange your layout yourself (outside of the UK market, we do not provide display units, due to shipping costs and due to the fact that they can easily be purchased locally). Of course, we can help you make certain decisions.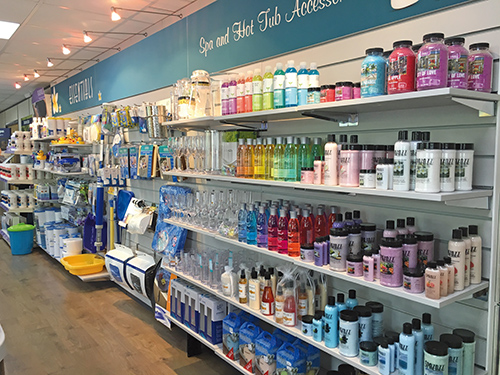 Showroom GC Spas & Sauna à Barnstaple (North Devon - UK)


What are the top selling products and accessories?

The most popular items are the steps and cover lifters because they are needed for each new hot tub and sometimes need to be replaced. After that, our various hot tub water scents also sell well to hot tub dealers, who order large quantities. Spa FROG water treatment cartridges, a floating system containing 2 cartridges (mineral and bromine) also sell well. Booster seats (weighted down cushions) are highly demanded products for children or smaller people.

We also provide access ramps (different models with rim fastening or installation under the hot tub cabinet, so as not to damage it), cartridge cleaners like the Water Wand, a kind of large comb that connects onto the hose. We also offer a bucket, the Filter Soak Canister, intended for cartridges to soak in so they can be more easily cleaned later.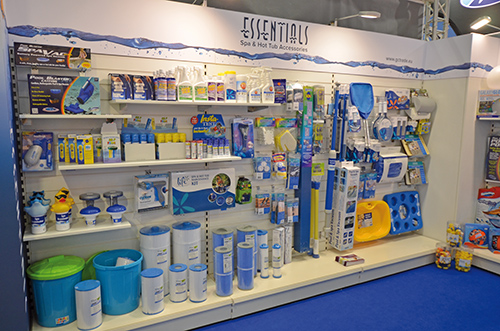 Another outfitting idea seen at the aquanale - Essentials expo