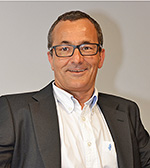 The flocculent business and the FLOVIL brand marketed by Weltico, has been taken over since the month of May by CRISTALIS, a newly created company headed by David Hamouni.
His goal: to continue the development and follow-up of a range that is among the well-known brands in its field in the pool market, and has been for over 40 years.

Specialists in the optimization and filtration fineness of pool and spa water, the water clarifiers FLOVIL, FLOVIL DUO, FLOVIL SPA, FLOVIL CHOC, and others such as WELCLEAN (for cleaning and descaling filters) and SECAL (limestone sequestering agent) complete the range which has been highly successful in the French and international markets for several years.

At the Lyon exhibition, David Hamouni and his team are presenting the new packaging of the products in the CRYSTALIS range.


To be discovered at PISCINE GLOBAL 2016 in LYON
Stand 5C11