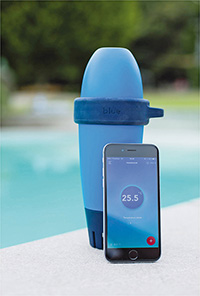 The Riiot Labs company markets 'blue by Riiot', their smart pool analyser, available as a world first at the Piscine Global 2016 expo.

It's the first floating connected object dedicated to pool maintenance.
Autonomous, discrete, and intelligent, it continuously analyses the water quality of your pool: temperature, pH, conductivity, and ORP/Redox.
Its connectivity options (Bluetooth and SigFox) and long battery life enable it to transmit this data to the "cloud".
Intelligent, predictive algorithms then integrate weather data (UV, rain, etc.) and provide advice to pool owners via a mobile app (iOS and Android).
Result: perfect bathing water, in peace!

The object, which received a nomination for a Grand Innovation Award (Grand Prix de l'Innovation – Foire de Paris, 2016), is available to try out and order from the Riiot Labs stand.

Eventually, and via other products that are currently in development, the company plans to provide significant expertise in pool maintenance and water quality consulting, for and with industry professionals.


To be discovered at PISCINE GLOBAL 2016 in LYON
Stand 5A69