From November 2016, the brand "PISCINE GLOBAL" is the new common name for the entire network of international exhibitions of the pool and wellness sector organized by GL events Exhibitions (Piscine Global Lyon).
A change with a view to giving these events greater visibility and a stronger appeal.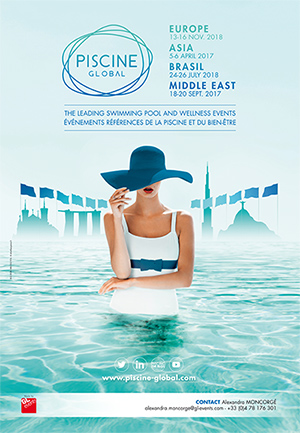 The PISCINE GLOBAL 2016 in Lyon, from 15th to 18th November, marks a turning point for this dynamic organisation, bringing together under this name 4 major international trade shows, which however retain their specificity and character:
• Piscine Global at Eurexpo - Lyon becomes Piscine Global Europe;

• Piscine Asia becomes Piscine Global Asia: from 5th to 6th April 2016, at Marina Bay Sands, Singapore;

• Piscine Middle East becomes Piscine Global Middle East: from 18th to 20th September 2017, Dubai World Trade Centre, Dubai, UAE;

• Piscine Brasil becomes Piscine Global Brasil: from 24th to 26th July 2018, Sao Paulo Expo, Sao Paulo, Brazil.
In addition, the evolution in the communication of upcoming exhibitions will feature the new approach, resolutely modern and oriented towards the art of living desired by the organisers.
To complete this axis of communication, in addition to a common name, these four exhibitions are distinguished by a visual identity and a redesigned logo, to make it recognisable and interpretable both in France and abroad.
A new graphic identity that reflects current consumer trends and reinforces the commitment to innovation by Piscine Global.
They are unveiled for the first time at the exhibition in Lyon.

Five strong goals have motivated these changes:
• To strengthen the international appeal of the offers at each exhibition;
• To optimize visitor numbers for the different exhibitions;
• To extend their quality requirements in terms of organisation and services;
• To enrich the Pool and Wellness offers in a more transversal and comprehensive manner;
• To simplify the legibility of the brand and its exhibitions.

With the predominantly European edition in Lyon in France, the Asian version in Singapore, the Middle Eastern version in Dubai and Brazilian in Sao Paulo, the Piscine Global network attracts about 22,000 professionals from all over the world.